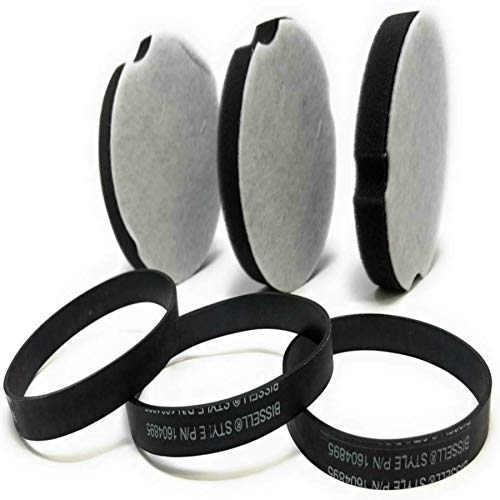 GENUINE OEM PARTS- Manufactured for exact fit
QUALITY MATERIAL- Designed to keep your vacuum safe and in working condition all the time
CONTAINS- 3 Compact Lightweight Upright Vacuum Filter Part No:1604895 and 3 Vacuum belts Part No:1604896
INSTALLATION- Easy to install, hassle free
CUSTOMER-100% satisfaction guarantee with your purchase. If you have any questions regarding the products please feel free to contact us, we are more than welcome to answer any questions and help with any problem. Customer satisfaction is our top priority.
BISSELL OEM REPLACEMENT PARTS Premium Quality designed for exact fit Filter model number (160-4895) fits Bissell PowerForce Compact Lightweight Upright Vacuum Cleaner model 1520.similar models of 1520 are:15204,15207,15208,15209,1520L,1520N,1520R,1520U,1520V,15201520W,1520X, and 1520ZCapable with Bissell PowerForce Compact Light Upright Vacuum model 2112.Similar models to 2112 are:21129,2112R,2112ZAlso fits PowerForce Compact Turbo Bagless upright Vacumm model 2690.Bissell Powerforce Compact Brush Belt (160-4895) fits the following Vacuum Models:Easy Vac Lightweight Upright Vacuum | 3130Similar models:31033, 3120, 31301, 31302, 31303, 31304, 31305, 31306, 31308, 31309, 3130A, 3130B, 3130C, 3130F, 3130H, 3130L, 3130M, 3130P, 3130Q, 3130R, 3130U, 3130Easy Vac Lightweight Upright Vacuum | 23T7Simmilar models:23T74, 23T77, 23T7E, 23T7F, 23T7G, 23T7K, 23T7P, 23T7Q, 23T7T, 23T7U, 23T7W, 23T7YPowerForceCompact Lightweight Upright Vacuum | 1520Similar models :15204, 15207, 15208
List Price: $ 35.99
Price: $ 35.99

Bissell Vacuum Belts