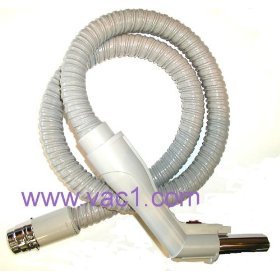 Replacement Suction & Attachment Hose Assembly for Older Style Electrolux Canister Vacuums Which Use Style C Bags
Super J Style Hose, All Metal End Which Fits Into Canister Portion of Vaccum
Improved Design and Construction, Now Includes ON / OFF switch on the handle of hose to turn power nozzle on / off for carpet and floors
FITS 120S, SUPERJ, SILVERADO, OLYMPIA, MARQUIS, DIAMOND JUBILEE, All METAL CANISTERS
This is a replacement electric suction hose assembly designed to fit older style Electrolux, Lux, or Aerus canister vacuum cleaners. This replacement attachment hose is a much better design then the original style cloth vinyl hose, as it's a much more durable material. Another improvement over this hose to the original hose, is the On / Off switch that's included in the new hose. This switch allows you to turn your electric power nozzle off with the flip of finger tip, when vacuuming hardwood floors. No need to remove the carpet attachment, and look for the brush with this new feature. This hose is the older style Electrolux Super J hose, and will work with your canister if your hose is metal on the end that attaches into the canister.
List Price: $ 49.99
Price: $ 49.99

Electrolux Vacuum Parts